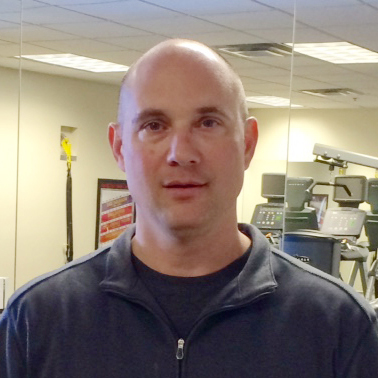 Scott Marsh C.S.C.S. Pn1
Scott completed his BA in Physical & Health Education from Saginaw Valley State University in 1991. In 1994 he became certified as a C.S.C.S. ( Certified Strength & Conditioning Specialist) through National Strength & Conditioning Association(NSCA), which is the worldwide authority on strength and conditioning. The NSCA supports and disseminates research based knowledge and its practical application to help assess, motivate, educate, and train clients. Scott is also a Precision Nutrition Level 1 coach and a Professional member of the Medical Fitness Network.
Upon graduating from SVSU he worked in an outpatient Orthopedic Physical Therapy Clinic for seven years in addition to Personal Training. At the clinic he worked with patients to execute their exercise programs for their injury or trauma to the musculoskeletal system(muscles and bones of the body). This includes sprains, strains, post fracture, post surgery, repetitive injuries, and degenerative diseases, ie. degenerative disc disease, osteoporosis(degenerative bone disease), and arthritis(degenerative joint disease).
When a patient had completed their physical therapy they still need to continue to exercise and do their physical therapy exercises. Scott would design the home program based around their specific condition, needs and equipment available.
After Scott left the clinic to focus full-time on his Personal Training business, he has taken his experience and knowledge gained from the clinic to help his fitness clients reach their health and fitness goals with an injury free environment and proper form being the two most important criteria.
Scott has enjoyed helping people for the last 25 years reach their health and fitness goals and, maintaining a healthy lifestyle. He has also started The New Warrior Program which is a fitness and nutrition program, at no charge to the recruits, prepare for bootcamp and beyond.
Throughout his career as a Certified Strength and Conditioning Specialist he is required to renew his certification bi-annually. He does this by attending National conferences, Personal Training conferences, taking quizzes, and maintaining his CPR certification. He is a "information junky". He is always reading the latest research and publications to stay current and up to date so his clients have the best programs to meet their individual needs.